Are You Making This Marketing Mistake at Your Dealership?
Posted on: October 15, 2015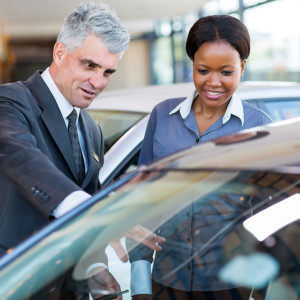 The days of car buyers visiting your dealership to START shopping are over. The number of dealerships car buyers visit to start the shopping process is significantly decreasing. In the past, buyers visited 5-6 dealerships before buying, but today they're only visiting 1-2 dealerships. What's the cause of this change?
They're Shopping at Your Dealership on MOBILE DEVICES
It's true. Your customers are going mobile. In fact, if your dealership website isn't mobile-friendly, you could be losing over HALF of your customer base.
According to the 2015 New Autoshopper Study by J.D. Power and Associates, more than half of online shoppers searching for a new-vehicle use a mobile device to research the vehicle they want to purchase. Over the past 3 years, automotive "smartphone shopping" has increased by 70%.
The study also found that 34% of auto shoppers do their research on smartphones before ever going to a dealership, while 48% do more research while at dealership showrooms.
More Decisive Conversions
So what kind of effect has this increase in mobile had on purchases?
The report found that 1 of 3 auto shoppers locate the vehicle they will purchase in the end on a manufacturer website, a 3rd party website, or their dealer's website. As a result, almost half (49%) of auto shoppers now know the exact make / model they want, and that's what they end up purchasing.
In other words, half of your customers have reached a decision on the vehicle they hope to purchase before ever talking to you. Is your mobile website doing your talking for you? If not, here are some tips to improve your dealership's digital marketing.
Improve Your Dealership's Digital Marketing
According to the study, auto shoppers are searching online for prices, model and inventory information, special offers, and incentives. Give the people what they want. Show them your inventory, and list prices online. Promote your special offers and discounts on your website.
Also, become associated with the websites listed below. The study reported 3 sites you should be linked to because they were the most frequently visited 3rd party sites visited in 2012 by auto shoppers.
– Consumer Reports
– Edmunds.com
– Kelley Blue Book
– TrueCar (biggest increase in visitors)
Don't lose anymore customers to your competitors' mobile-friendly, and content-rich website. Contact us to get your website mobile optimized, and to start a digital marketing plan that will increase your sales this quarter!→ 585.670.0347.