When to Hire an Advertising Agency in Rochester
Posted on: December 2, 2016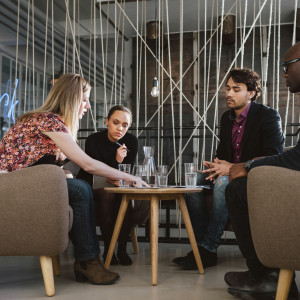 After you've refined a brilliant product or service, the next step in growing your business is through advertising. However, you might be reluctant to hire an advertising agency, especially in a relatively small market like Rochester, because you think it would be too expensive for your current budget.
The mistake some Rochester business owners and financial officers make is to assume that advertising agencies only manage large scale, top dollar ad campaigns for big brands. The truth is, it's not hard to find a Rochester advertising agency that places ads in local media and manages small ad campaigns.
No matter the size of your company, many Rochester-based advertising agencies can customize their services to benefit your business and growth. Below are 3 clear ways to tell if it's time for you to hire an advertising agency.
When you need more structured advertising
If your company doesn't have its own marketing department, it's likely that your advertising either doesn't exist or is being tacked onto the job description of one of your employees who isn't very confident in that field. This kind of arrangement often leads to inconsistent or unscalable advertising results.
Hiring an advertising agency brings structure to your marketing efforts. Their team of ad experts can offer you specialized knowledge and a depth of expertise. For example, they can equip you with media buyers who have experience negotiating prices for the best spots on targeted platforms such as TV ads, radio ads, and out of home ads. Other experts in an agency who will add structure to your advertising efforts include:
• Ad writers
• Videographers
When you need more time
Most business owners are busy enough trying to run the company. If you don't have time to create a well-planned ad campaign, your advertising will suffer. Of course, if you invest a proper amount of time into the campaign, you could risk the well being of your business. Hiring an advertising agency will free you up to concentrate on what you know best and what your employees have been trained to do. Meanwhile, your agency can place all of its concentration on creating ad campaigns that produce big results.
When you need more money
For a company that hasn't invested much of a budget into marketing, hiring an advertising agency might seem expensive. However, the idea of marketing is to increase your ROI (return on investment), and advertising agencies know this. Hiring an advertising agency offers a greater return on your dollar than hiring one inhouse marketing specialist. Agencies can offer a greater return because advertising is their speciality. They're made up of a team of experts who regularly produce ad campaigns. This also means they can usually get you cheaper rates on ad placement due to long-established relationships with media stations and publishers.
We hope this article has helped you determine whether or not to hire an advertising agency. If any of these points resonated with you, we would love to discuss how we can help. Please contact our ad agency today!